At least 384 people have been killed after an earthquake and tsunami struck Indonesia.
The figure comes from one city – Palu – where hundreds of people are injured and thousands of homes have been damaged or destroyed, a spokesman for the disaster mitigation agency confirmed.
At least 540 people were badly injured, he added.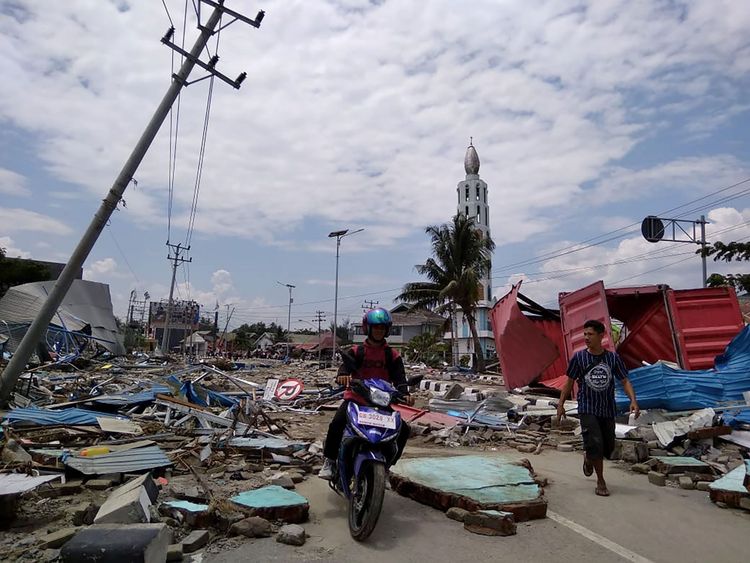 Waves of up to two metres (6.6ft) high swept through the city on Sulawesi island after the magnitude 7.5 quake brought down several buildings and sent people fleeing from their homes.
Many of those killed were at a beach festival in Palu, the capital of Central Sulawesi province, which was strewn with debris from collapsed buildings and pooled seawater.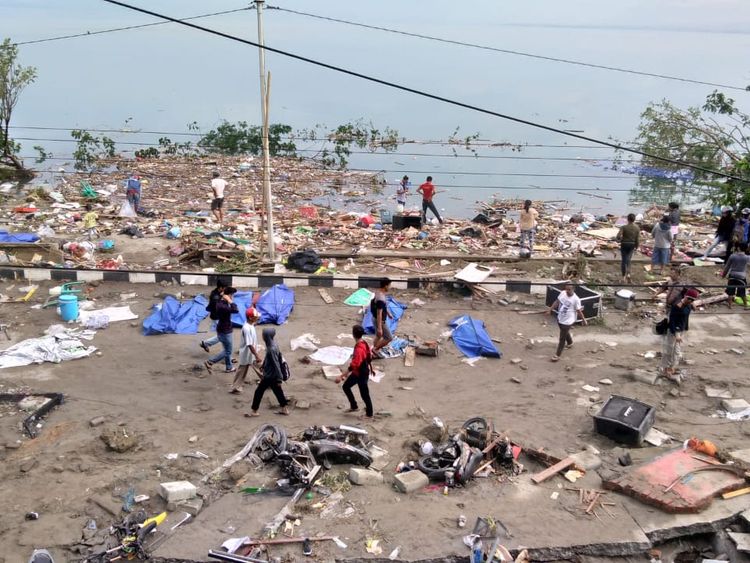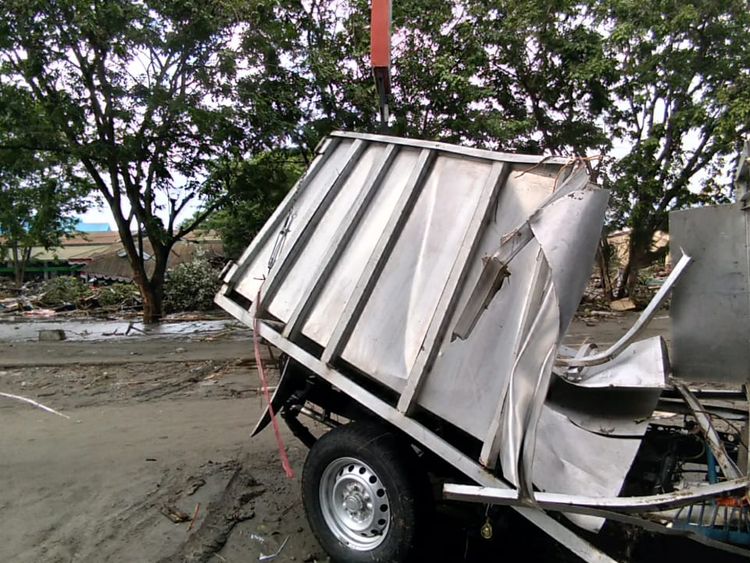 "When the (tsunami) threat arose yesterday, people were still doing their activities on the beach and did not immediately run and they became victims," disaster agency official Sutopo Purwo Nugroho said.
"The tsunami didn't come by itself, it dragged cars, logs, houses, it hit everything on land," he added.
Palu – which has a population of more than 380,000 – is built around a narrow bay which apparently magnified the force of the tsunami water as it raced into the tight inlet.
A magnitude 6.1 earthquake which earlier hit central Sulawesi also reportedly killed one person and injured 10 others, as well as damaging dozens of houses.
Authorities are struggling to co-ordinate the rescue effort because a power outage has cut communications around Palu and the nearby town of Donggala, which is closest to the epicentre of the quake.
Hospitals have been overwhelmed by the influx of injured, with many people being treated outside.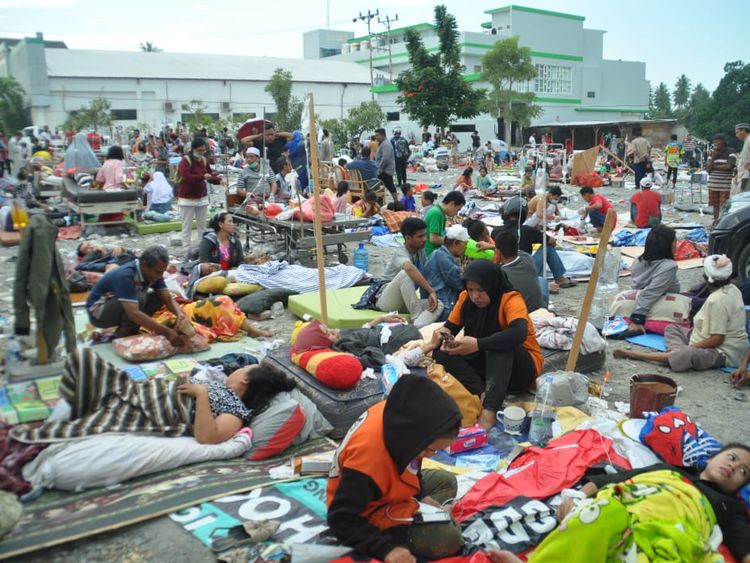 Officials said some victims had been trapped in the rubble of collapsed buildings.
Mr Nugroho said: "Bodies of victims were found in several places, because they were hit by the rubble of collapsing buildings or swept by tsunami… but we are still collecting data."
Indonesian president Joko Widodo said the military was being called into the disaster-struck region to help search-and-rescue teams reach victims.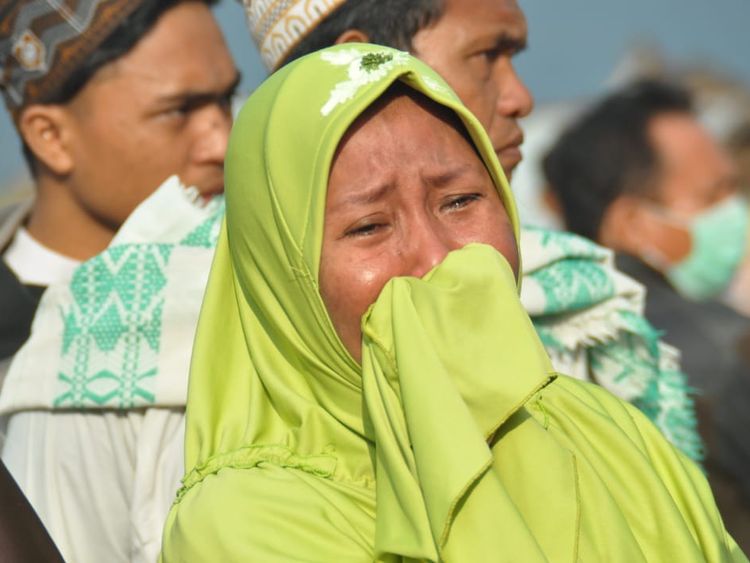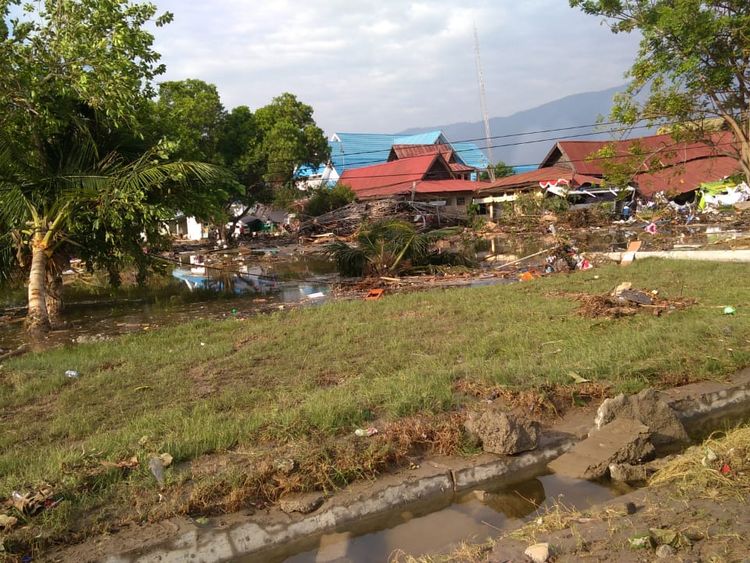 United Nations spokesman Stephane Dujarric said UN officials were in contact with Indonesian authorities and "stand ready to provide support as required".
The earthquake hit at a depth of 10km (6.2 miles) just before 6pm local time (12pm UK time) on Friday, the US Geological Survey said.
A tsunami warning was issued but lifted within the hour.
Another view of the major tsunami reported to have hit Palu, Indonesia after M 7.5 earthquake today, Sept 28! Report: Catastrophes Mundiales pic.twitter.com/TShiOyTViB

— severe-weather.EU (@severeweatherEU) September 28, 2018
Footage posted online showed waves of water bring down several buildings and swamp a large mosque in Palu.
"I just ran when I saw the waves hitting homes on the coastline," said Palu resident Rusidanto.
In the nearby city of Donggala, home to nearly 300,000 people, a large bridge with yellow arches that spanned a coastal river collapsed.
The 7.5 magnitude tremor later on was more powerful than a series of quakes that killed hundreds on the Indonesian island of Lombok in July and August.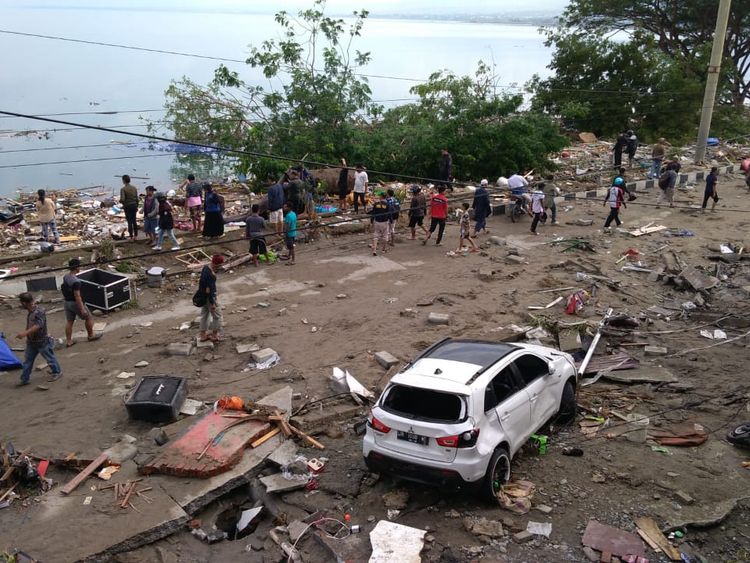 Indonesia is prone to earthquakes because of its location on the Ring Of Fire, an arc of volcanoes and fault lines in the Pacific Basin.
In December 2004, a massive 9.1 magnitude earthquake off Sumatra in western Indonesia triggered a tsunami that killed 230,000 people in a dozen countries.
From – SkyNews