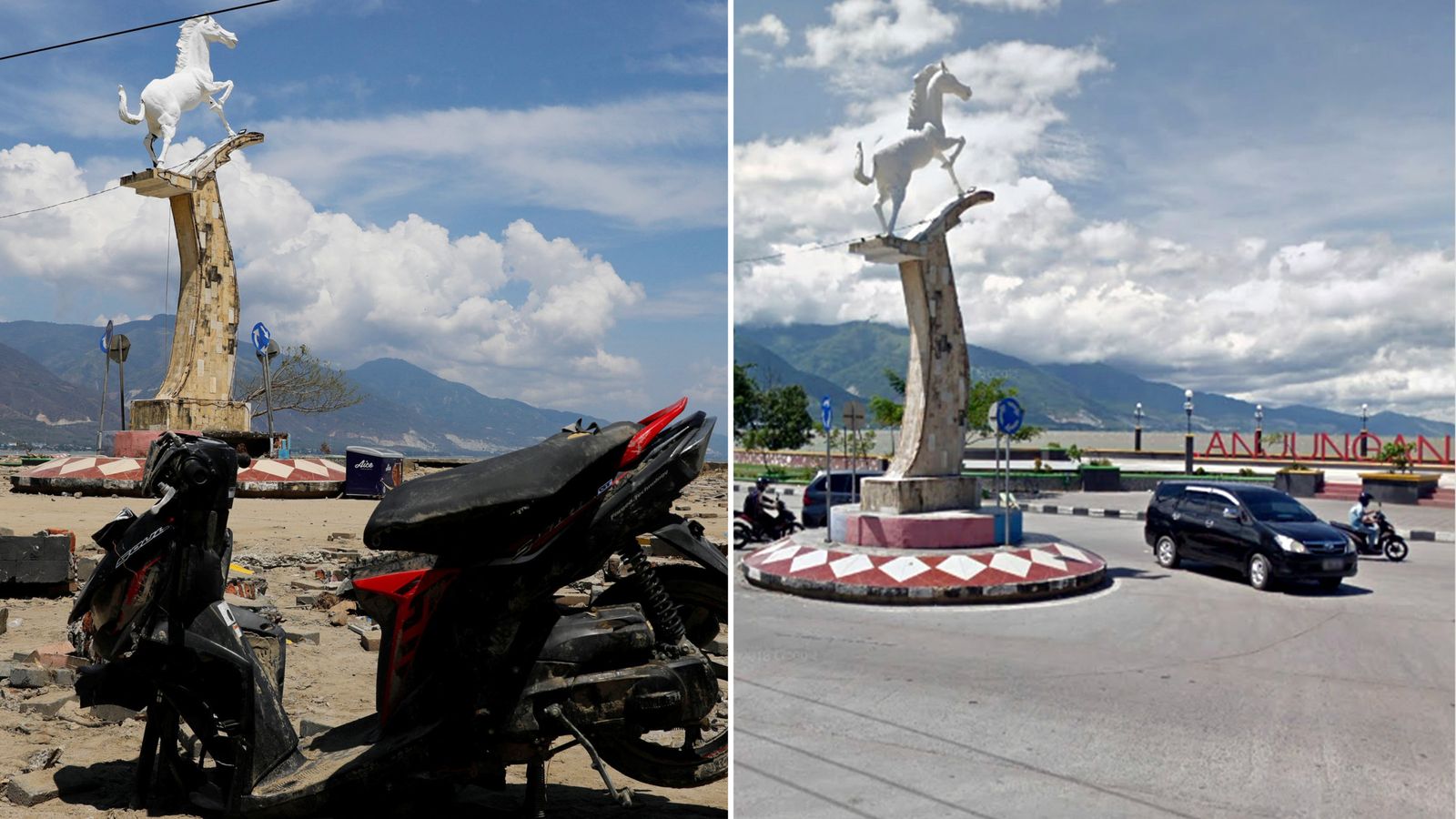 New pictures have emerged that show the devastating impact of the earthquake and tsunami that hit the Indonesian island of Sulawesi.
The images show what the city and region of Palu on the island looked like before and after the disaster.
The suburb of Balaroa
Balaroa, in Palu city, was once a patchwork of paved streets and tidy houses dominated by a golden domed mosque.
A statue of a horse
This statue of a horse on the seafront in Palu was a widely known landmark often used for ceremonial events.
The Mushalla al Mubarak Islamic centre
While this relatively new mosque is intact, the front gate was flattened and debris from the tsunami has been piled up against it, more than 100 metres inland.
Palu bay
Satellite images that show an aerial view of the bay leading from the open seas to Palu reveal how the coastline has changed since the tsunami.
The Palu River inlet
A more detailed look at the entrance to the Palu River shows how the land at the shoreline has been inundated.
The hotel
Among the buildings flattened by the shallow 7.5 magnitude earthquake was the Roa Roa Hotel, a cheap hotel that was popular with Indonesian travellers.
The bridge
The Palu River bridge was at the entrance to the river, a major watercourse that ran right through the centre of the badly hit town.
The mosque on the seafront
The Apung Mosque was a popular beauty spot but is now isolated after the bridge allowing worshippers to reach it from the shore was destroyed.
The newly renovated mosque
The roof of the Baiturrahman Mosque, about 150m from the beach, collapsed into its main prayer room, leaving its newly constructed minaret standing.
The university
Images of the Islamic University, which is also on the seafront, show debris piled up and the entrance and buildings around it wrecked.
From – SkyNews