Two Reuters journalists have been jailed for seven years after being found guilty of breaking state secrets laws while investigating the massacre of Rohingya Muslims in Myanmar.
Wa Lone, 32, and Kyaw Soe Oo, 28, were arrested last December while carrying official documents given to them by police.
The pair had been gathering evidence about the execution of 10 men in the village of Inn Din in Myanmar's northern Rakhine State.
The deaths happened during a widespread campaign of violence which started last August and saw more than 700,000 Rohingya flee to neighbouring Bangladesh.
The military crackdown followed attacks on police posts by Rohingya insurgents.
Reuters editor-in-chief Stephen J. Alder said: "Today is a sad day for Myanmar, Reuters journalists Wa Lone and Kyaw Soe Oo, and the press everywhere.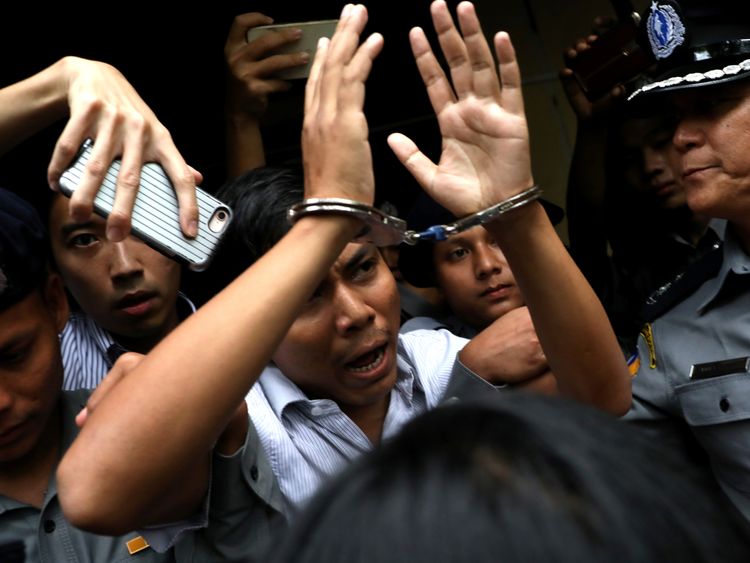 "This is a major step backward in Myanmar's transition to democracy [and] cannot be squared with the rule of law or freedom of speech."
He added that the verdict "must be corrected by the Myanmar government as a matter of urgency."
Kevin Krolicki, Reuters' regional editor for Asia said: "What happened today threatens to undermine the rule of law and freedom of press that democracy requires."
Shortly after the announcement broke, the UN in Myanmar issued a call for the pair to be released back to their families and jobs.
Brad Adams, Asia director of Human Rights Watch, also issued a statement, saying: "The outrageous convictions of the Reuters journalists show Myanmar courts' willingness to muzzle those reporting on military atrocities.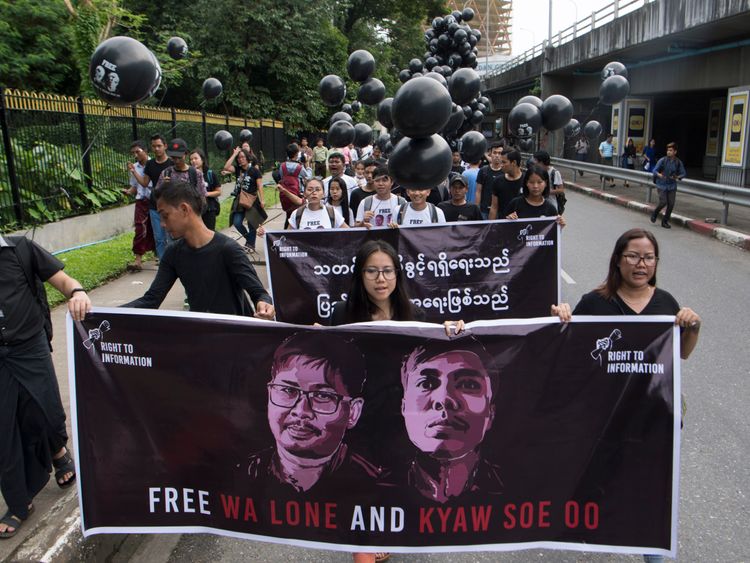 "These sentences mark a new low for press freedom and further backsliding on rights under Aung San Suu Kyi's government."
Britain's ambassador to Myanmar, Dan Chugg, said the UK was "extremely disappointed by this verdict", while US ambassador to Myanmar Scot Marciel said: "It's deeply troubling for everybody who has struggled so hard here for media freedom."
Video shared online shows supporters attempting to stop the police van carrying the journalists from leaving the court.
According to Reuters, on 2 September 2017, Buddhist villagers and government troops in Inn Din killed the men who had been sheltering by a nearby beach after their houses had been burned.
Reporters found at least two of the men had been hacked to death, the rest had been shot and then buried in a shallow grave.
On 12 December 2017, Wa Lone and Kyaw Soe Oo had been invited to dinner by police officers who handed them documents about the massacre.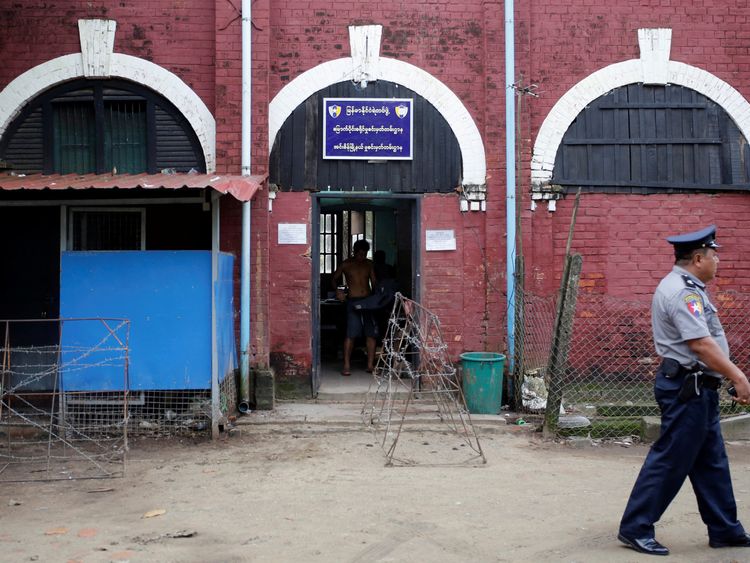 They were arrested when they left the restaurant and charged with "possessing important and secret government documents related to Rakhine state and security forces."
Police claimed the information was illegally obtained with the intention of sharing it with foreign media.
Both men denied the charges, with lawyers claiming they had been set up as punishment for exposing the massacre.
"The truth is on our side. Whatever the situation is, we will not be shaken. They cannot make us weak," said Wa Lone ahead of the verdict.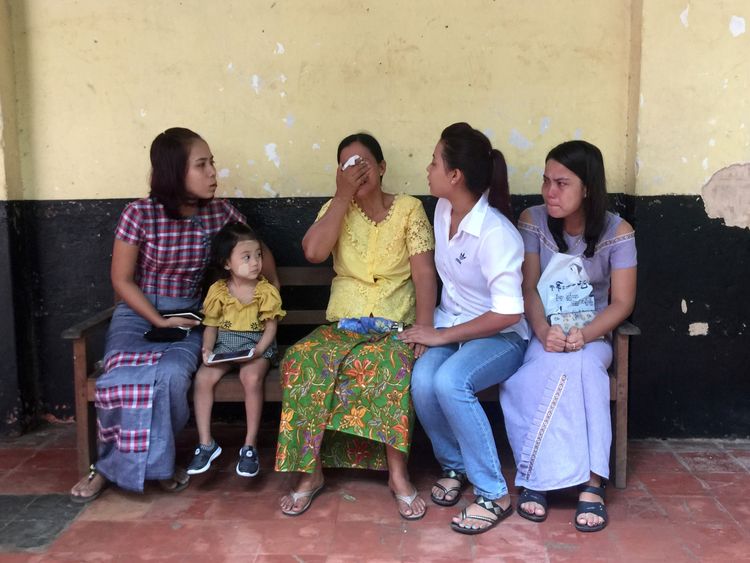 During the trial, the court heard from one police officer who said he was ordered to plant evidence against them.
The government maintains they were detained for breaking the Official Secrets Act.
After the verdict was delivered, family members pledged to continue to fight for the men to be freed.
In January, Myanmar's military admitted for the the first time that its troops had been involved in the unlawful killing of 10 men in Inn Din.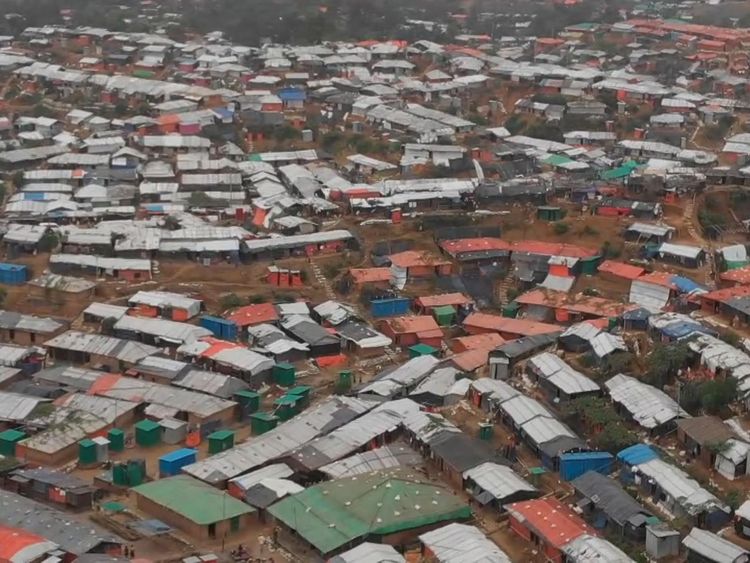 However, it claimed the villagers and soldiers carried out revenge attacks against what it called "Bengali terrorists".
The army said seven soldiers have since been sentenced to 10 years in prison with hard labour for their role in the killings.
The verdict comes a week after a UN report said military leaders must face genocide charges for their role in the violence.
Myanmar has rejected the findings, saying the international community was making "false allegations".
From – SkyNews