Donald Trump has said he hopes not to see any "unnecessary violence" ahead of November's midterm elections.
With many political observers tipping the Democrats to regain control of Congress, the US president has been keen to drum up support among conservatives to get out and vote come polling day.
But following a closed-door meeting with evangelical leaders in which he reportedly warned his policies will be "quickly and violently" overturned if the Republicans lose their majority in the House of Representatives and Senate, Mr Trump has sought to clarify what he meant.
"There's a lot of unnecessary violence all over the world, but also in this country, and I don't want to see it," he said.
:: Donald Trump's future: Why eight years of rule is quite possible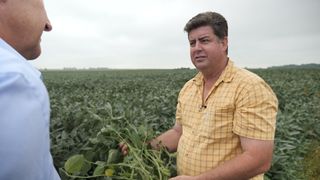 His comments came after The New York Times published quotes purportedly from an audio recording taken at the meeting, in which Mr Trump suggested there could be actual violence if there were protests against any changes enforced by the Democrats.
In what appeared to be an urgent bid for support from conservative Christians across the country, Mr Trump told the leaders that the elections were a referendum "on your religion" and "on free speech".
He added that they would "lose everything" if the midterms do not go his way, and urged ministers and pastors to use their "tremendous power" to swing undecided voters to his cause.
"I just ask you to go out and make sure all of your people vote," Mr Trump said.
"Because if they don't we're going to have a miserable two years and we're going to have, frankly, a very hard period of time because then it just gets to be one election – you're one election away from losing everything you've got."
:: Microsoft disrupts Russian attempt to interfere in US midterm elections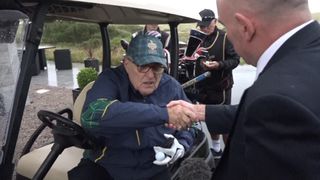 Some of the event on Monday was open to reporters, with The New York Times reporting that Mr Trump spoke about abortion and youth unemployment.
He proceeded to issue his warnings after journalists were shown out of the room.
Mr Trump has been under mounting pressure since his ex-campaign chairman Paul Manafort and former long-time lawyer Michael Cohen were convicted of tax fraud and election finance offences respectively.
Both bombshells dropped on the same day last week, with Mr Cohen said to be "more than happy" to tell the special counsel looking into collusion with Russia everything he knows about the president.
:: Facebook uncovers rogue political campaigning ahead of US midterms
Speaking to Reuters, a source close to the president admitted it had been a "bad day for the home team".
The source said the legal woes could hurt voter turnout and increase the Republicans' risk of losing their 23-seat majority in the House of Representatives and perilous grip on the Senate, adding: "This hurts our midterm prospects."
Mr Trump has sought to downplay both convictions and – in an interview with Sky News – his lawyer Rudy Giuliani said "the American people would revolt" if the president was impeached.
Mr Trump has used similar rhetoric throughout his short political career, saying that his supporters would probably react violently if he did not win the Republican nomination back in 2016.
"I think you'd have riots," he warned.
From – SkyNews