Zimbabwe's president has issued a rallying call to his country to unite behind him and work together to re-build the nation.
Emmerson Mnangagwa, a former enforcer of long-time leader Robert Mugabe and head of the Zanu-PF party, was on Friday announced as the winner of an election held the previous Monday, with 50.8% of the vote.
Opposition leader Nelson Chamisa has vowed to challenge the result, saying that his Movement for Democratic Change (MDC) group won the popular vote.
The party is threatening to challenge the outcome in the courts and have until 10 August to do this.
But speaking to Sky News in his first interview since the election result, Mr Mnangagwa said he wanted to be a "people's leader, a listening leader, a humble leader and a serving leader".
Mr Mnangagwa's Zanu-PF party won a two-thirds majority in parliament, prompting fears he would use that to dilute the constitution and roll back new clauses designed to limit presidential terms and strengthen parliamentary powers.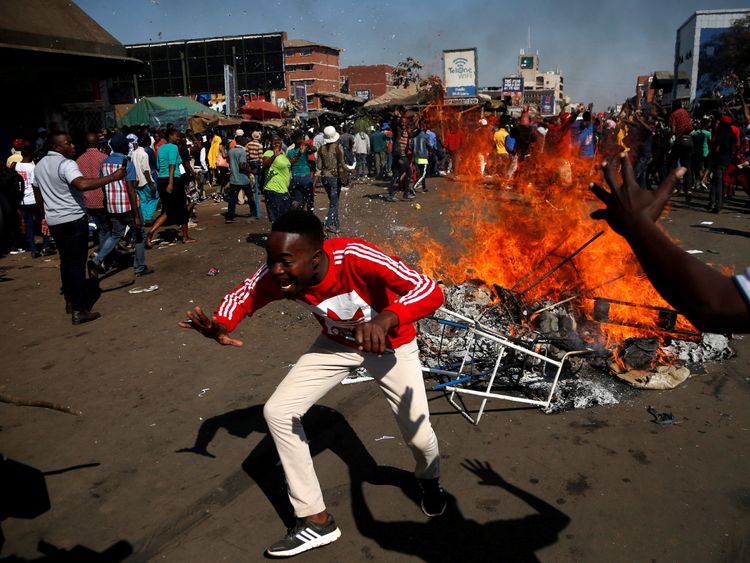 The 2013 constitution limits the president to two terms of five years each and last week's election followed more than three decades of one man at the country's helm, Robert Mugabe, who ruled the country since its independence from Britain in 1980.
Mr Mugabe's long rule continued despite a number of elections marred by violence and irregularities.
He only stepped down last November when the army intervened after he fired Mr Mnangagwa, his protege and former ally.
Mr Mnangagwa has pledged to abide by the letter and spirit of the constitution and relinquish power should he be voted out in future or at the end of a second term if he is re-elected.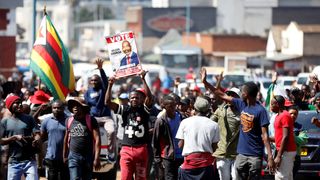 Responding to the opposition party's claims, he added that the election was a "free, fair and transparent process from period of campaigning to the period of the actual voting…everyone has declared the process free, peaceful and transparent".
Mr Mnangagwa also insisted he had no regrets about being part of an administration which pushed through controversial land reforms.
The reforms led to western sanctions and the country's exit from the Commonwealth, resulting in a massive economic crisis, currency collapse and high unemployment, a situation from which the country has yet to recover.
Mr Mnangagwa told Sky News: "I don't regret, Zanu-PF doesn't regret and the people of Zimbabwe don't regret… despite the suffering that came on our people as a result of the sanctions, we do not regret acquiring our land again."
He blamed Britain, the country's former coloniser, for the crisis but insisted: "Let bygones be bygones."
He did, however, say that Britain is better when it has a woman in charge.
He said: "Each time Britain has a woman leader, things are better.
"In 1979 when we had Margaret Thatcher, she stopped our war and brought us to the table and we got our independence… this time we have Prime Minister Theresa May.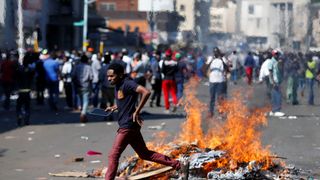 :: 'We are going to have to go to war': Zimbabwe's election fallout
"Upon my inauguration she sent an envoy to meet me to say, can we re-engage…so we have re-engaged and it's so beautiful.
"So I would wish Britain would continue to elect women prime ministers."
He said he regretted the violence that broke out after the election and before the results were announced, but insisted it had lasted for a single day and much of it was carried out by hooligans.
He added: "We regret the deaths and I am going to instigate an independent commission of inquiry to find out who did what and what went wrong."
The violence, with soldiers and police officers beating and whipping protesters as live bullets being fired into running crowds which saw at least six people killed, sparked fears that Zimbabwe was mired in the past.
But the streets of the capital Harare have been calm for the past two days.
From – SkyNews